30 Jun

Behind The Biz – Mabel's BBQ
Behind The Biz – Mabel's BBQ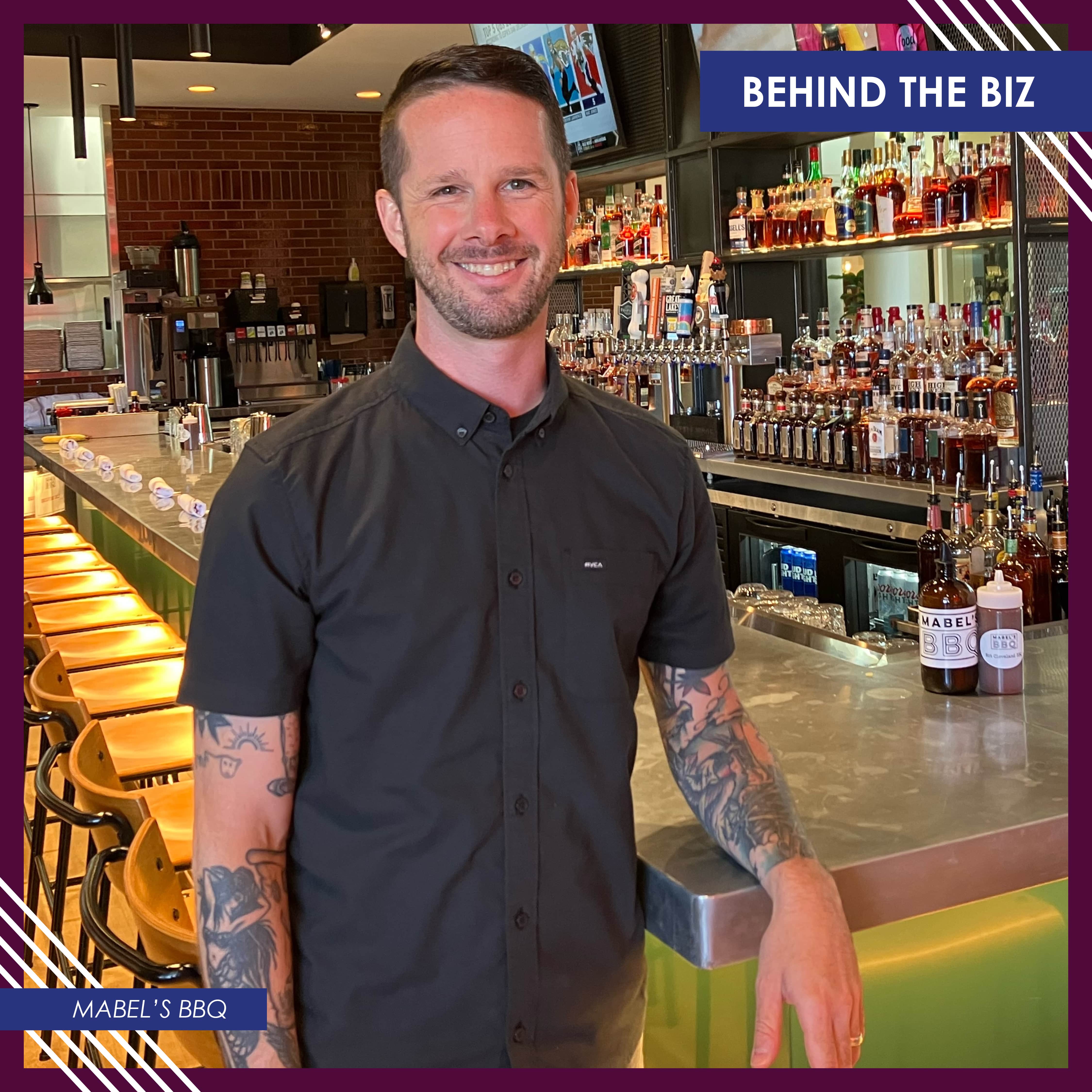 Our "Behind The Biz" blog series takes a deeper dive into the amazing people behind the businesses here inside the Atrium Shops at Eton Chagrin Boulevard. This week's spotlight is Mabel's BBQ.
Behind The Biz – Mabel's BBQ
Mabel's BBQ has been a staple in Downtown Cleveland since it first opened in 2016. Seeing the way the community embraced this concept downtown and wanting to bring a refresh to the previous B Spot restaurant, Michael Symon's team decided to bring the same local BBQ idea to Eton Chagrin Boulevard. It was an easy decision for them to bring Mabel's to the east side, since they already felt connected to the community and had a strong relationship with the neighborhood.
The difference between the downtown location and Woodmere, is that downtown's traffic is very event driven, centered around Guardians games and concerts at Rocket Mortgage Field House. At Eton, it is truly a neighborhood environment. The location is centered in a great core group of neighborhoods. People live close by and visit daily. The restaurant gets more regular customers that are coming in for a relaxed atmosphere to sit and have a dining experience and visit with friends and family.
When dining at Mabel's BBQ, you'll find everyone from business professionals from the surrounding offices to families coming in to have dinner together, or people stopping in to get carryout. The community surrounding Mabel's and Eton is fiercely loyal, visiting multiple times a week for date nights, business or time with friends.
"As long you take care of people, they'll be supportive," says Michael Boland, Assistant Director of Operations who has been with the company for over 10 years. "And the level of business has been great, with summer weekends being the most exciting time!"
The concept for Mabel's BBQ was created by celebrity chef, Michael Symon, who always wanted a BBQ spot that showcased the heritage of Cleveland in the food, along with other owners Liz Symon and Doug Petkovic. Visitors will find a local taste of Cleveland in the menu, including sauerkraut, pickles, rye bread and kielbasa. While these might not be typically found in regular BBQ, even the spices and seasonings are tied to the ethnic and cultural food influences found in the Cleveland area. Even the sauce pays tribute to Cleveland's baseball history, made with Bertman's Ballpark Mustard.
Mabel's BBQ prides itself on serving meat that is humanely raised with no added hormones or antibiotics.
"We always take care to get high-quality and responsibly raised meats. Even after returning from COVID and the price to source the meat increased, we made the decision not to raise our own prices or cut corners to get cheaper meat. We never questioned lowering our standards. We pride ourselves on unwavering integrity."
If diners are looking for a great drink to accompany their meal, look no further than the bar at Mabel's. The whiskey list is vast and offers private barrel selections. The team travels to Kentucky to taste different barrels and choose one that will get bottled and sent to the restaurant. There are 6-10 different whiskeys on the menu that are hand selected based on their flavor profile. The bar also offers rum, gin, vodka and tequila – there's something for everyone.
Michael Boland's perfect meal at Mabel's consists of the fatty brisket, pulled pork, hot greens with extra BBQ and a Michael's Manhattan to top it off.
Operating in a post-pandemic world has been a challenge for Mabel's but they have continued to make the best decisions they can with every challenge that comes. The group is sure to take their time in making decisions and talking through everything with the ownership and management teams to figure out what makes most sense for the business.
In the future, the goal is to focus on moving the Eton location forward in a successful direction by becoming engrained into the community and always meeting the standards set for themselves.
Beyond the amazing quality found in the dining experience, Mabel's sets itself apart with the staff they hire. The employees are true hospitality professionals that have a genuine interest in providing a flawless experience and going above and beyond to ensure that every single guest leaves happy.
Mabel's is fortunate to have attracted some phenomenal talent and staff members. The company hired back a number of people that worked in the previous B Spot, so many have a background with the company at this very location. The tenure of the entire staff in the company is a testament to everyone's happiness here.
Mabel's BBQ is hiring and very interested in taking care of the people they bring on board. While the company holds high standards and expectations, they are sure to offer their staff a high quality of living, including paid vacation and healthcare.
"We want to help people create a living for themselves and have an opportunity to have a career in the industry. Whether you are managing, serving, bartending, you have a chance for a career here and benefits, including signing bonuses and referral bonuses. We offer our back of house staff a high paying wage so they can support their lives and their families."
Mabel's prides itself on quality of life for their staff and treating them fairly. They work to help people grow within the company.
Though it's only been open for 4 months, Mabel's BBQ at Eton is continuing to expand its offerings, including opening for lunches in July on Saturday and Sunday. They've also added in Uber Eats, DoorDash and GrubHub offerings. Visitors are encouraged to be on the lookout for an expanding menu coming soon.
To learn more about Mabel's BBQ, view the menu, order takeout, and apply for a job, visit mabelsbbq.com.