28 Feb

Behind The Biz – Matina's Bridal

Our "Behind The Biz" blog series takes a deeper dive into the amazing people behind the businesses here inside the Atrium Shops at Eton Chagrin Boulevard. This week's spotlight is Matina's Bridal.
Behind The Biz – Matina's Bridal
"A wedding gown is the most important clothing item a woman will ever buy," says Julie Rauzan, owner of Matina's Bridal, "One of our specialties is helping the bride find the gown that makes her heart beat faster."
Matina's Bridal first opened in 1974 in Warren, Ohio and has kept the tradition of excellence alive since moving here to Eton 14 years ago. Prior to taking ownership in 2013, Julie worked for Matina's Bridal on and off for about 20 years. She was working in a corporate environment and was ready for a change. At the same time, the original owners were getting ready to retire. The timing was right, and Julie made the decision to purchase the store.
The wedding gown sets the tone for the look and feel of the entire wedding day, and Julie recognizes that shopping for one isn't the average retail experience. It's a special moment that usually only happens once. It's Julie's job to make sure that each bride-to-be walks away not only with their dream dress, but with an experience that they will remember for a lifetime.
There's a lot that goes in to finding your dream dress; it's a process that includes trial and error, considering the wedding venue, the season, colors, and florals. It's common that a bride has an idea of what she wants walking into the store but leaves with something that looks completely different. That's why it is so crucial to have someone like Julie who knows about designers, fabrics, and what works for specific body types. She listens to her clients, making sure she pulls dresses that match the bride's style and personality, and of course..…budget.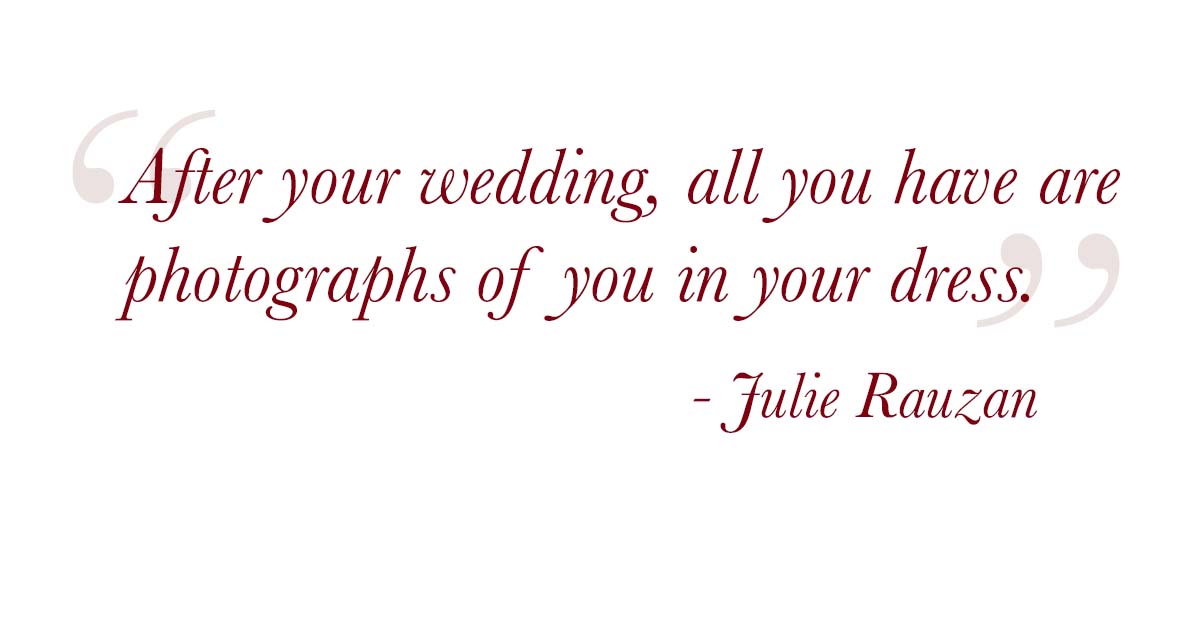 Matina's Bridal is one of a few bridal stores left in Cleveland that has its own in-house seamstress. Mira, who works directly alongside Julie, has been Matina's seamstress for about 40 years. "She's a magician," Julie says, "a good seamstress is worth a million dollars." Mira is an expert in the field who has perfected her craft through decades of experience and is a key asset to their success. Brides come to Matina's because they know that they will find a unique dress that will be altered by an expert that truly cares about the outcome.
When bringing new styles into the store, it's important that it fits with the Cleveland audience. Over the years, Julie has gotten to know the Northeast Ohio bride; at market, she's shopping for them, not her. She focuses on what designers and styles will work well with her store and the types of clients she has. Some of the designers that Julie brings into the store are exclusive to Matina's and no other shop in Cleveland carries them. "Those are the real trendsetters in this industry," Julie says. Today's brides are looking for these dresses that are out of the norm, with champagne or blush under tones and unique fabric choices.

To newly engaged couples, Julie would say to start the planning early. Most people don't know that to get a designer, cut-to-order wedding gown, especially from a boutique bridal store like Matina's, it will take about 6 months. There are no warehouses full of dresses waiting to be bought, each wedding gown is made for every individual bride.  Also, she suggests having a wedding in the off-season; weddings are expensive, so the possibility of saving money during down times and off-days is huge.
Every industry has been impacted one way or another because of the pandemic. The bridal industry was hit especially hard. "The best thing about it is this pandemic has caused people to think more closely on what is truly important in life," Julie says. Brides are sacrificing the big weddings that they always dreamed of because they just want to be married. There's not as much of an emphasis on the big show anymore. The focus has shifted back to the core reasons why two people decide to get married, which in reality are the only reasons that matter.

Trunk show schedule:
March 7th – April 18th: Annual Accessories Event, Everything but Dresses on Sale!
April 7th – 9th:  Blush by Francesca Avila Fall 2021 Bridal Collection
Call 216-464-1288 or email [email protected] to schedule your appointment!