27 Jan

Behind The Biz – Mulholland & Sachs
Behind The Biz – Mulholland & Sachs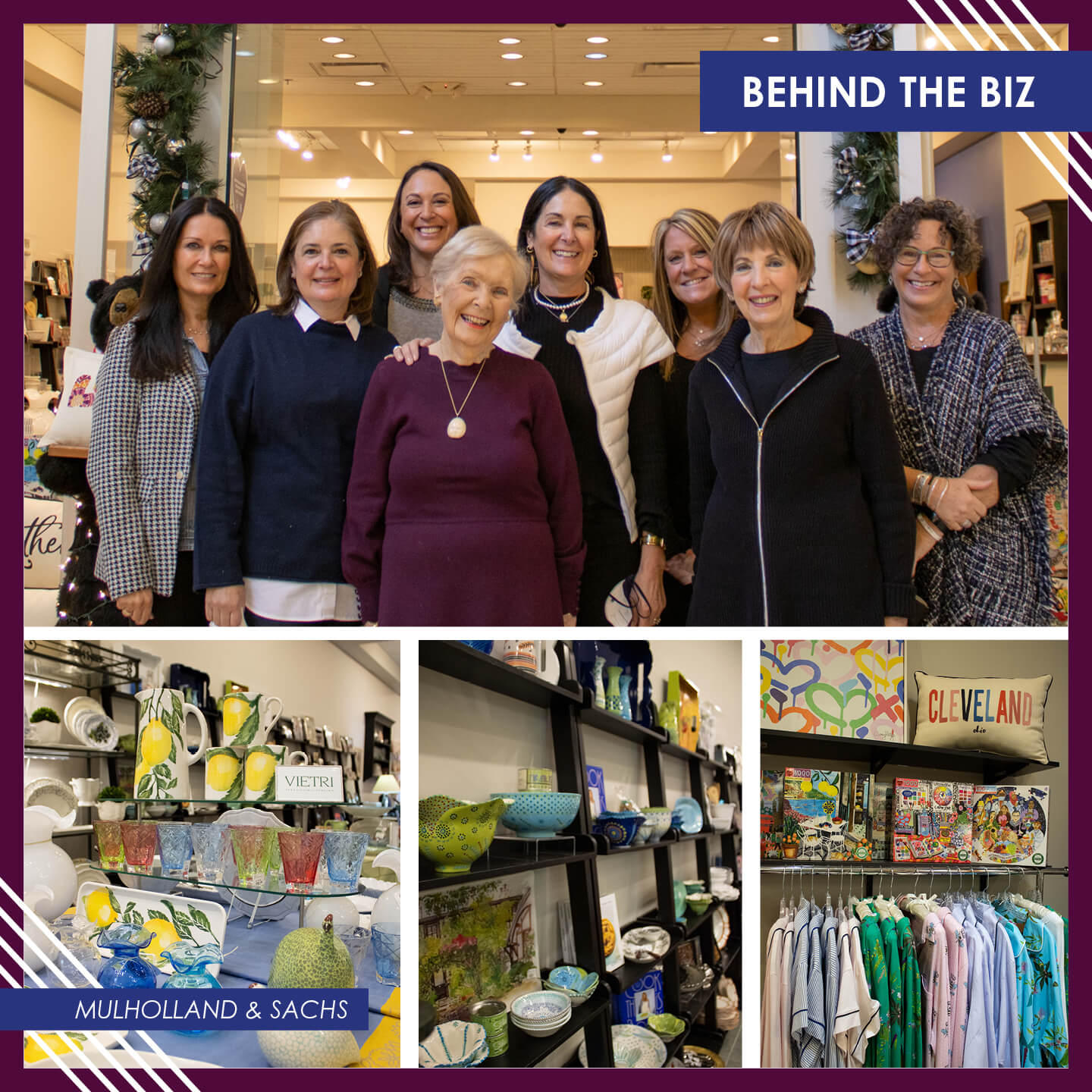 Our "Behind The Biz" blog series takes a deeper dive into the amazing people behind the businesses here inside the Atrium Shops at Eton Chagrin Boulevard. This week's spotlight is Mulholland & Sachs
Behind The Biz – Mulholland & Sachs
Mulholland & Sachs isn't your average gift store. Owners, Anne Sachs Mulholland & Rita Sachs go above and beyond to make sure that each customer that walks in the door has the best experience possible while browsing the fine china, customizable goods, top notch snacks and so much more. She doesn't do this alone; she has a team of employees that are each as devoted as she is to the craft and service. In fact, most of the team were customers turned employees.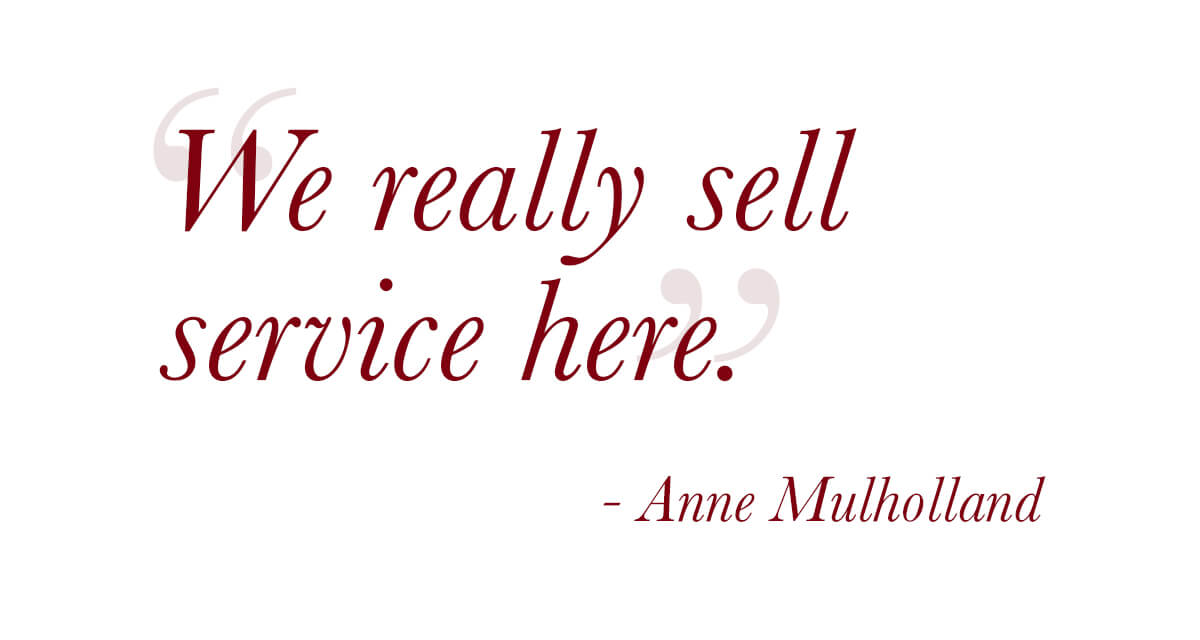 Anne first opened her business 20 years ago, spending the last 16 years here at Eton. She always knew she wanted to open a store; retail is in her blood. Her parents both worked for Bloomingdales in New York City in 1957. This is where they first met! When Anne opened her store with her mother Rita in 2002, her vision came alive. Anne sells gifts made to last for people of all budgets. When you give a loved one a Mulholland & Sachs gift, you know it will withstand the test of time.
Over the years, Anne says that her store has become more customer focused. She can go to market and buy smarter because she knows her customers. As a small business owner, she communicates with her customers in the store every day. She listens and talks to them, gets to know them and hear what they like and don't like. Anne knows how to keep it fresh, always looking for what's hot in the market right now. "Keep the basics," Anne says, "but definitely find new."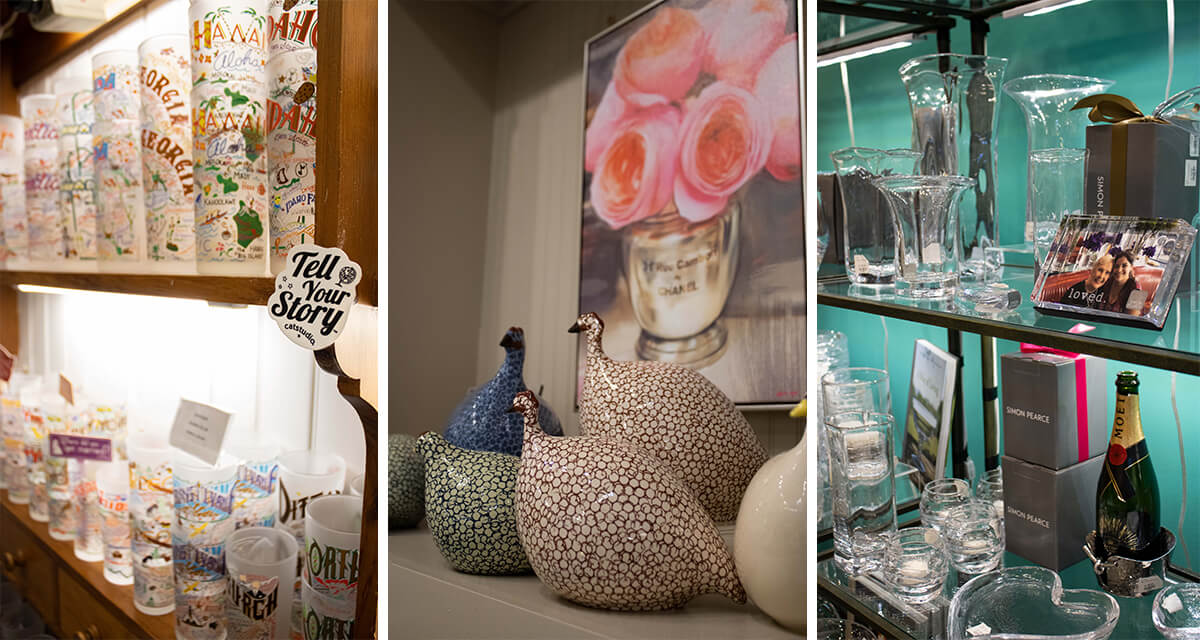 Walking into Mulholland & Sachs, you'll see fabulous china, gorgeous candles, classic jewelry, and gifts for any occasion. Anne's favorite and most prized product is her collection of Simon Pearce handblown glassware. Simon Pearce is family operated, handmade in America, and stunningly beautiful. This high-quality glassware elevates any table setting and can fit in any type of home. After speaking with the employees, it's safe to say that Simon Pearce is one of the most sought-after products in the store.
In the future, Anne sees her online presence growing and growing. Having a brick & mortar store is so important to connect with customers, but online shopping is now the new norm. Anne's sister, Kathy Sachs Grabner, does all the customizable goods, from napkins to pajamas, with her business, Meadowlane Monogram. Anne and Kathy share a website (www.MeadowlaneAndMulholland.com) where Anne's best-selling customizable products are available to purchase with Kathy's personalized touch.

Anne and Rita have a dream team of dedicated employees that have all said that their favorite part of working at Mulholland & Sachs is the comradery and the fact that they all get to work with their close friends. "100% of our employees came back to work after the Covid-19 shutdown," says Rita.
Whether you're looking for a personalized graduation gift or a local business for your bridal gift registry, Mulholland & Sachs is eager to provide helpful service and quality products that will last a lifetime.
Follow Mulholland & Sachs on Instagram: @Mulholland_Sachs and like Mulholland & Sachs on Facebook!