09 Jun

Behind The Biz – Restore Hyper Wellness
Behind The Biz – Restore Hyper Wellness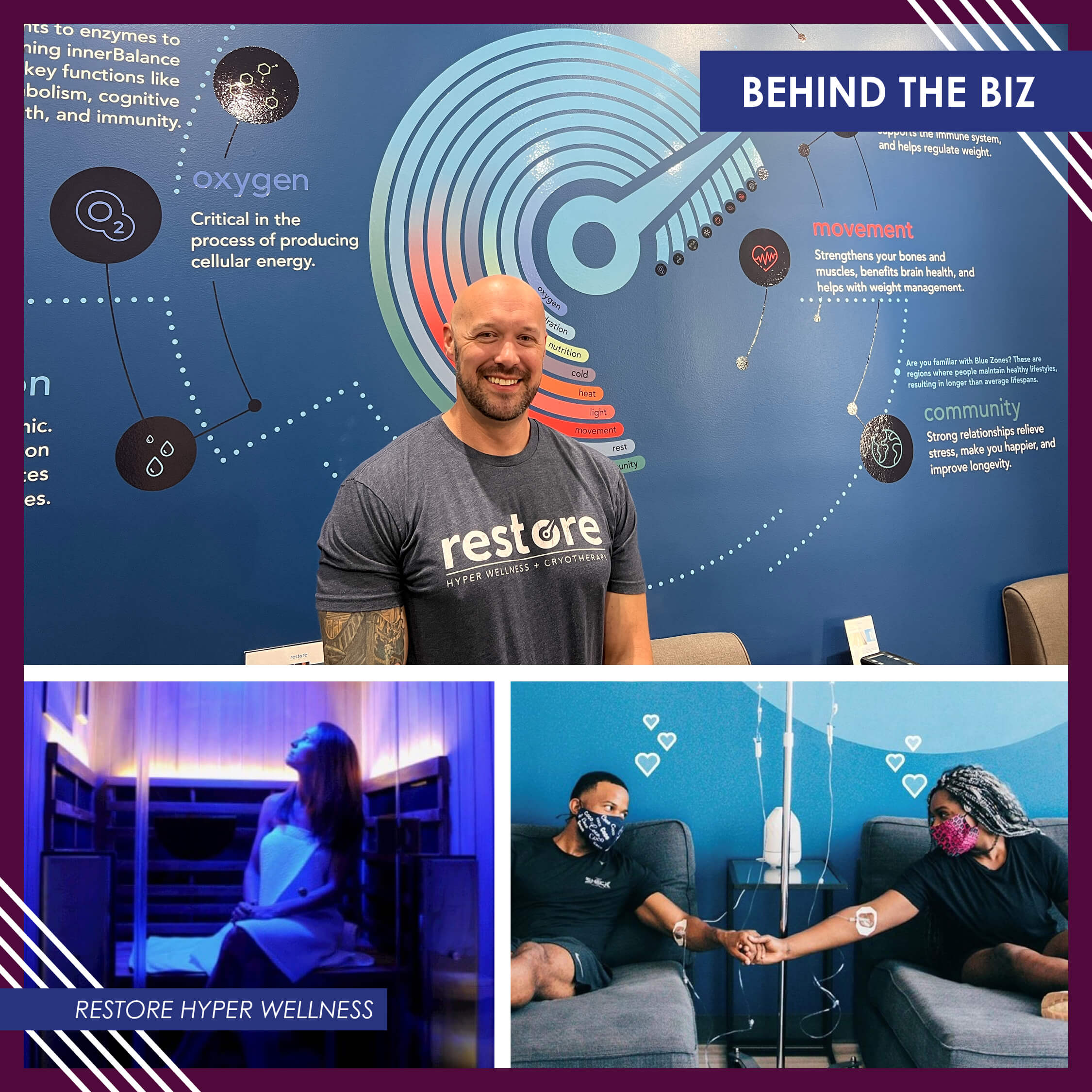 Our "Behind The Biz" blog series takes a deeper dive into the amazing people behind the businesses here inside the Atrium Shops at Eton Chagrin Boulevard. This week's spotlight is Restore Hyper Wellness.
Behind The Biz – Restore Hyper Wellness
Physical wellness at Restore Hyper Wellness starts with understanding your body and its needs. Whether you're recovering from an injury or just want to sleep better and have more energy, you'll feel refreshed and really taken care of here at Restore.
Owner of the Restore here at Eton Chagrin Boulevard, Kurt Altenburger, brought Restore Hyper Wellness to Northeast Ohio back in February of 2020. About six months before, Kurt and his wife, Stephanie Altenburger, started to familiarize themselves with the Restore Hyper Wellness brand and learning all about their methods of wellness and even visiting their headquarters in Texas! After working in fitness for many years and as a paramedic in the ER, Kurt discovered that he loved to help people feel their best. Opening his Restore Hyper Wellness allowed Kurt to help every type of person feel better on a daily basis.
Restore Hyper Wellness is a one stop shop. All your recovery needs are in one place. From IV drips to cryotherapy, Restore Hyper Wellness will make your body feel good, especially if you keep up your recovery efforts on a regular basis. Some of the many services at Restore Hyper Wellness include Cryotherapy, Hyperbaric Oxygen Therapy, Cryoskin, IV Drip Therapy, HydraFacial and the Infrared Sauna. One thing that Kurt can't stress enough is that each of the services work together wholistically, to recover the entire body, rather than just one problem area. There is no specific demographic that Restore Hyper Wellness serves. Athletes, people with chronic illness, or the person who has a stressful work life all come in wanting the same thing: to lead a healthy life and for their body to feel better.
Since Restore Hyper Wellness is one of the newer tenants here at Eton Chagrin Boulevard, opening up last year in October, Kurt advises potential new customers to just come in and talk to a wellness rep. Schedule a consultation to discuss your needs so you can fully understand what the Restore Hyper Wellness processes are and how you can start your recovery. One thing that people might not know about Restore Hyper Wellness, is that there are biomarker services, testing to learn more about each patient. Food sensitivity and DNA testing are available to allow the team at Restore Hyper Wellness to specialize their services better to fit your needs. The registered nurses will then walk you through your results, explaining what everything means and answering all the questions you might have. Since Restore Hyper Wellness is a large organization, Kurt and his team have access to broader resources like the lab where the biomarker tests get sent to and medical directors that are leading the wellness methods.

In the next 10 years, Kurt sees himself opening multiple new locations throughout Northeast Ohio. He also wants to make sure that each new location he opens is growing within itself, spreading the word about Restore Hyper Wellness, and gaining new customers. Over the three years that Kurt has been in business, he has learned to pivot, how to keep his business open when new and bigger challenges came his way. He is there to ensure his customers have the best, most seamless experience possible. He strives "to make peoples' days, years, and lives better." To anyone thinking of starting their own business, he says to do your research. It's important to know exactly what you are getting into before you dive all in. He encourages entrepreneurs starting out to fight the fear and surround yourself with people who will support you and your dream.
If you've been wondering how to start your wellness journey, start with Restore Hyper Wellness. Kurt and his team of registered nurses, estheticians, and wellness reps are here to give you specialized treatments, accurate advice, and help you leave with a smile on your face.
Start your wellness journey today; visit restore.com to book your consultation.