23 Nov

Black Friday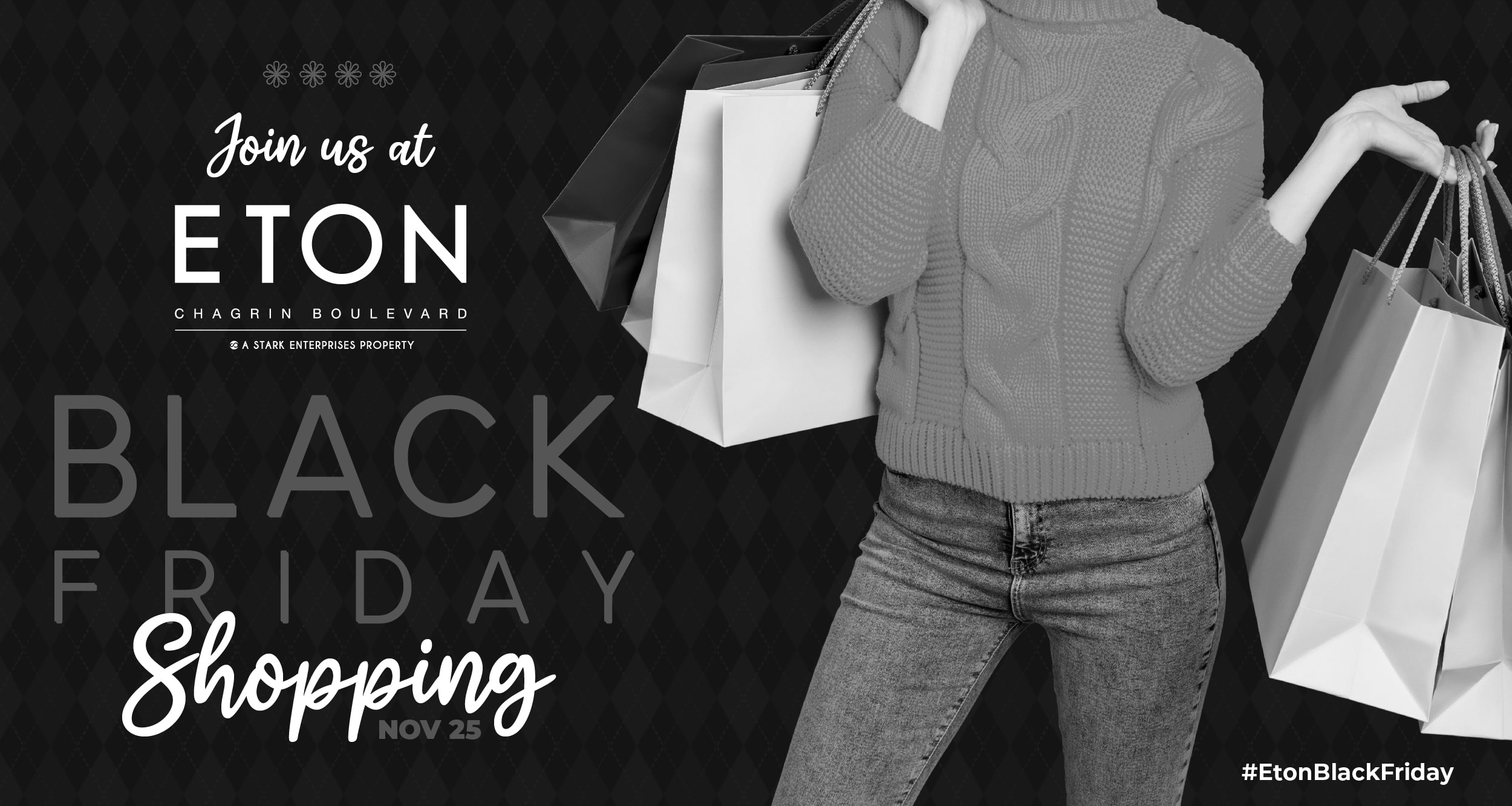 Date
Friday, November 25th
Hours
8:00am-10:00pm
Location
Eton Chagrin Boulevard
28601 Chagrin Blvd
Woodmere, OH 44122
Event Details
It's the biggest and best shopping day of the year, so don't miss out! Make sure you plan a visit this Black Friday, November 25th to shop our great local boutiques here inside the mall atrium as well as our exclusive national shops located outside. Hope you see you all then!
See below for a list of the extended hours and deals happening this Friday!
Anthropologie
Open until 8pm Fr & Sat. Open until 7pm Sunday. Visit to check out special in-store sales!
Apple
Open at 8am on Friday. Check out the Apple Shopping Event online for their promos.
Barnes & Noble
Will open an hour earlier on Friday only. Tons of signed additions for sale. 50% off hottest titles & top 20 best sellers hard covers. Nook e-readers $30 off. Every $100 purchased on gift cards, get a free $10 gift card. Member card holders get buy 1 get one ½ off hand crafted Starbucks drinks in the café (Nov 25-26). Spend $30+ on LEGO star wars sets and get a free lego build. All deals except café available Nov 25-28
Brooks Brothers
Open Friday from 9am-7pm. 30% off almost everything
Eileen Fisher
30% off sale!
Evereve
10% off everything!
Eyetique
40% off all Frames!
La Bella Vita
Open 10am-5pm Fri & Sat.
Lisa Moran
Bring gently used clothing to donate and receive 20% off one item!
Little Babet
Open Fri 10am-5pm, Sat 10am-5pm. Check for in-store specials!
Lululemon
Open 8am-8pm on Friday!
Mulholland & Sachs
Open Fri 10am-5pm, Sat 10am-6pm, and Sun 12-4pm. Check their social pages for special promotions on Friday morning!
Orvis
Starting Friday, will be open 10am-6pm Mon-Sat and 11am-5pm on Sunday.
Powder Room
Open Friday until 6pm. Check her Instagram @thepowderroomboutique for specials on Cryo & Facials!
Sur La Table
Visit to shop the in-store sales!