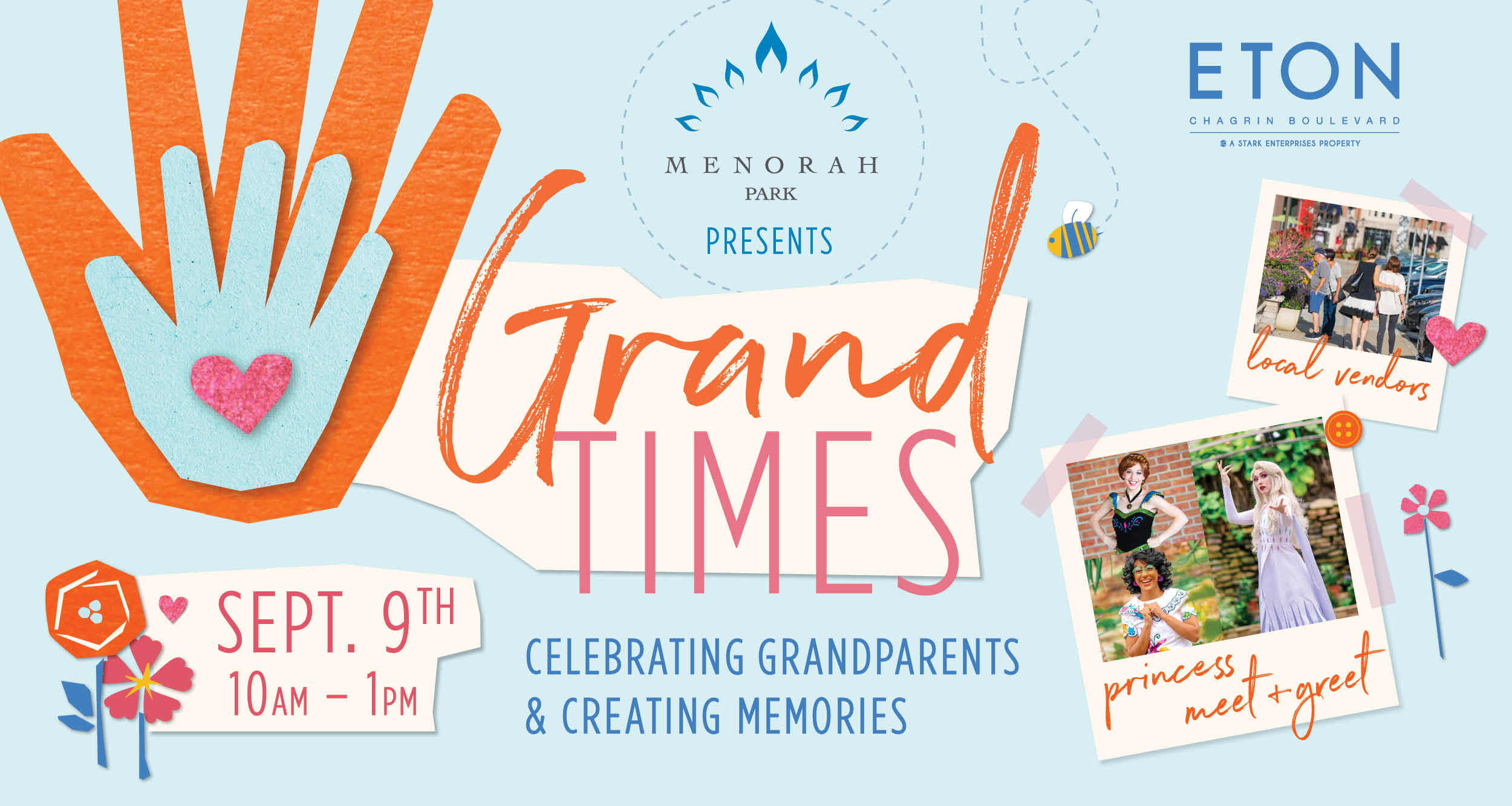 20 Jul

Grand Times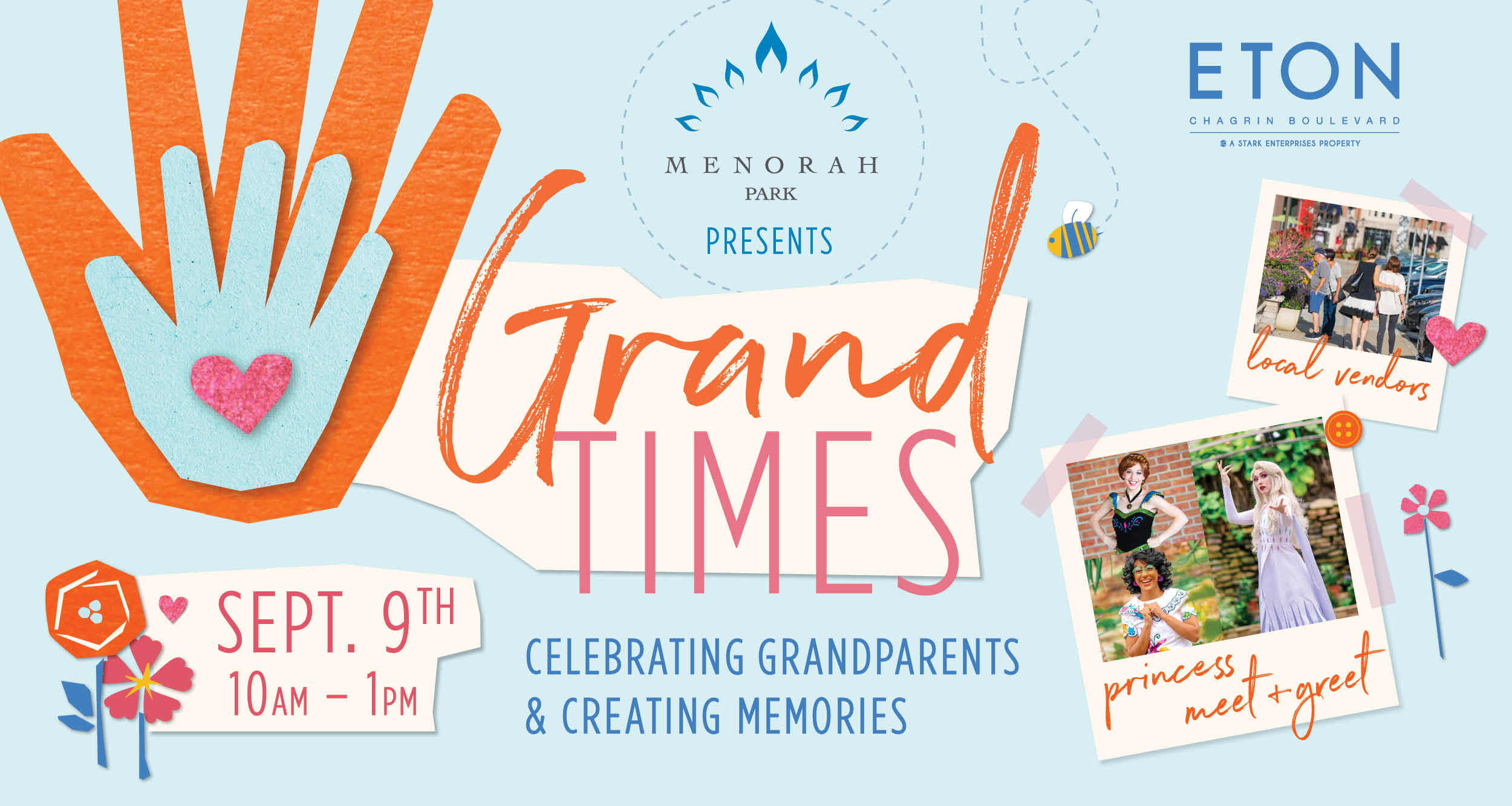 Date
Sat, Sep 9th
Hours
10am – 1pm
Location
Eton Chagrin Boulevard
28601 Chagrin Blvd
Woodmere, OH 44122
Event Details
Save the date and let the kids spoil the grandparents for a day – it's sure to be a Grand Time!
In honor of Grandparents Day, join visitors of every age for a day celebrating grandparents and making memories at the new event, Grand Times at Eton Chagrin Boulevard, presented by Menorah Park. The entire family is invited to Eton Chagrin Boulevard on Saturday, September 9th from 10am-1pm to meet princesses, enjoy local vendors and have a full day of family fun. It's a day of photos, crafts, music, fun and memories!
Eton Chagrin Boulevard and Menorah Park have teamed up to create an event aimed to have something for every age that can be done together and create meaningful experiences and lasting memories. Princess characters will be onsite for photos, and guests will be able to take home a photo souvenir from the Menorah Park photo booth.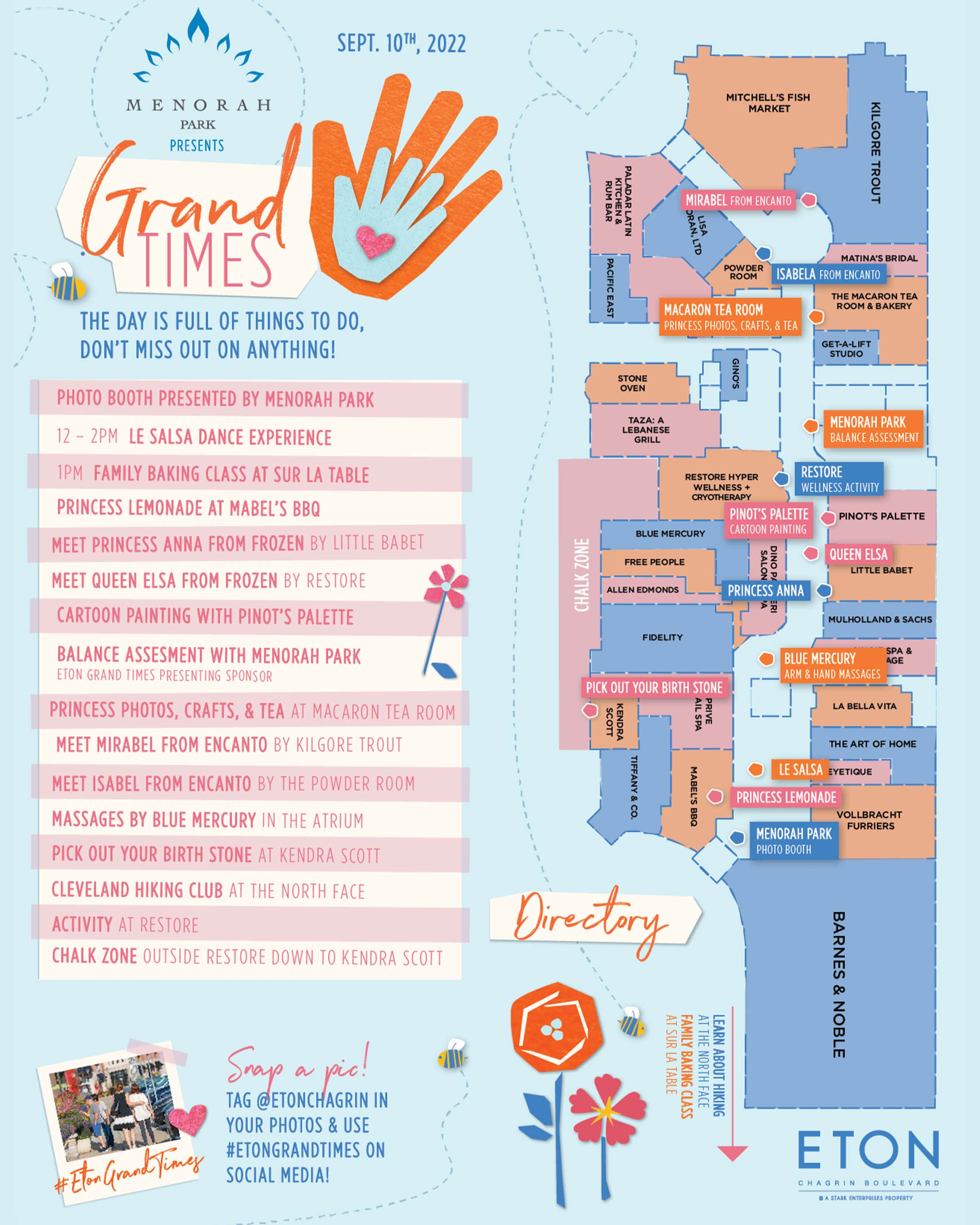 Special Activities:
-Bluemercury will be offering hand and arm massages during the event.
-Kendra Scott will have a fun "birthstone & initial bar" where people can shop their birthstones or grandparents can create matching pieces with their families.
-LESALSA will be doing an interactive performance from 12-2PM for people of all ages to learn something new, connect with loved ones and have fun together!
-Mabel's BBQ will be serving complimentary Pink Princess Lemonade during the event.
-The Macaron Tea Room will have princess photo opportunities, Grandparents Tea, and take-home crafts.
-The North Face will be hosting The Cleveland Hiking Club who will be giving away swag and special prizes.
-Pinot's Palette will be hosting a cartoon-themed canvas painting for a small fee.
-Sur La Table will offer an all-ages, family fun baking class at 1pm. Sign up on their website in advance, here.
Vendors will also be located around the property, as well as live music and many other fun-filled activities, including craft corners for kids and grandparents to make keepsakes to bring home, a fun "Chalk Zone" located outside between Restore and Kendra Scott, and much more throughout the day.
Visitors will get to enjoy the fun while perusing the amazing selection of retailers and restaurants outside, as well as inside the atrium shops at Eton Chagrin Boulevard.
The event is made possible by presenting sponsor, Menorah Park and partner Northeast Ohio Boomer Magazine.