17 Jun

Restore Hyper Wellness + Cryotherapy Coming To Eton
Restore Hyper Wellness + Cryotherapy Coming To Eton Chagrin Boulevard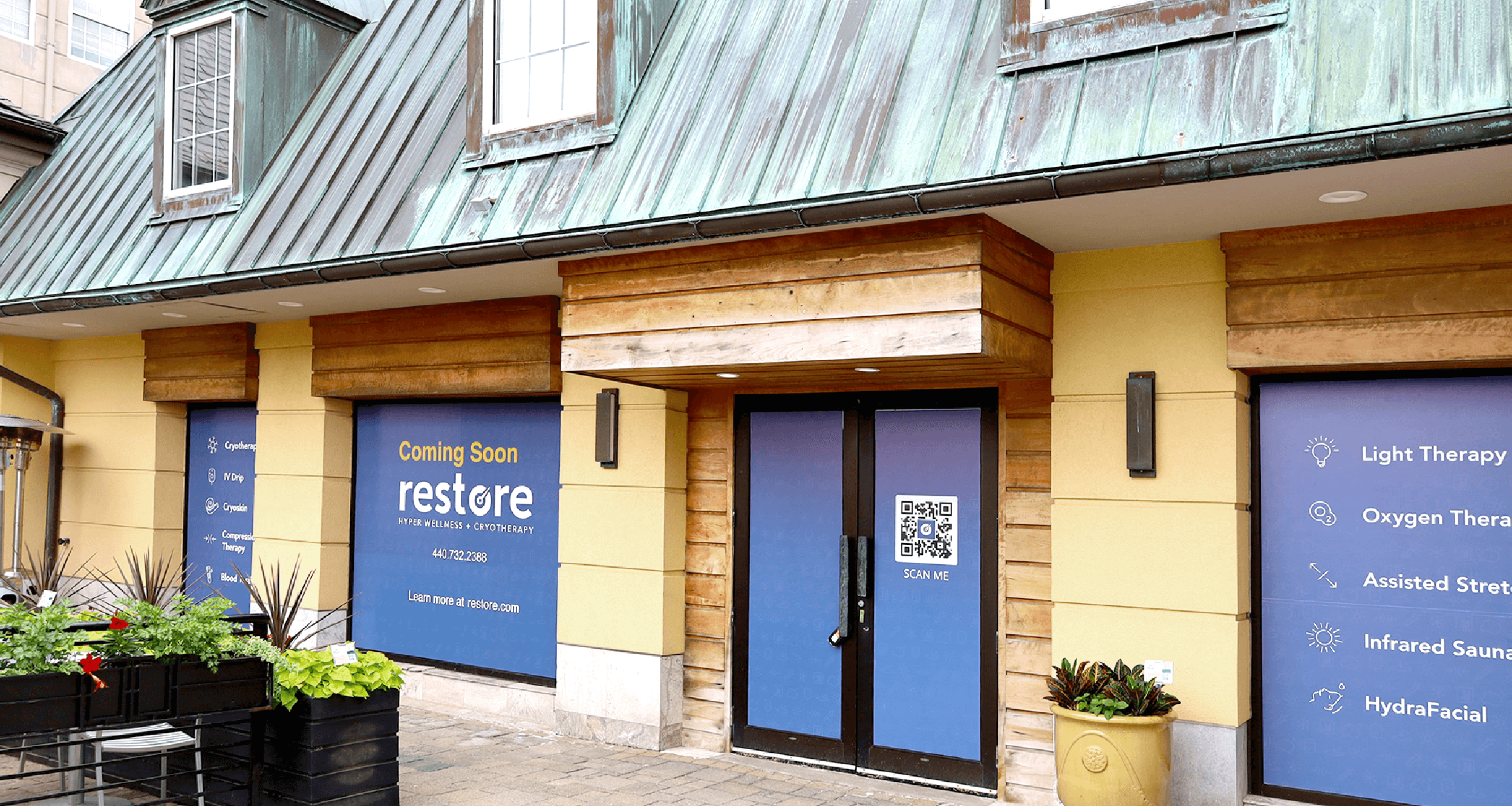 Holistic Service Based Shop Providing "Founders Rate" Membership Offers Leading Up To Grand Opening This September
Self-care- a heavily focused topic in society today. Are we all achieving it? Self-care can be attained in so many ways, and at the end of the day all comes to the same conclusion- setting aside time to focus on yourself. The ability for your body and mind to revitalize, energize, and restore for a stronger and more productive version of you. Eton Chagrin Boulevard is thrilled to announce they are welcoming Restore Hyper Wellness + Cryotherapy to their Atrium Shops at Eton Chagrin Boulevard, where self-care and overall health is accessible to all.
"Our services don't just make you feel good, but truly extend your quality of life and provide the care your body deserves to keep going and thriving," said Stephanie Altenburger, Co-Owner of Restore Hyper Wellness + Cryotherapy in the Cleveland area. "We are such a unique shop where clients can design their own consistent plan to instantly feel their best with services that always felt inaccessible- hyperbaric chambers, cryotherapy, and more. We provide the best quality and service at an affordable price everyone can take advantage of."
Restore Hyper Wellness + Cryotherapy aims to provide the resources for customers to achieve overall health, so that they can continue to do more of whatever it is they love- exercising, playing with their kids, traveling, and so much more. Their services include a wealth of options from IV Drip Therapy to Hyperbaric Oxygen Therapy, Compression Therapy, Stretch+ sessions, micronutrient testing, and the most popular Cryotherapy treatments. What sets Restore apart from other wellness stores is their approachability to these services, where at times could be intimidating, they make easy and digestible with education and science behind everything they do.
To celebrate the grand opening of their new location and foray into the Eton Chagrin Boulevard and East side community, Restore Hyper Wellness + Cryotherapy is offering exclusive founder rates that will lock in customers to the benefits of consistency with their membership plans. Beginning July 1, customers can receive 20% off 4 of Restore's membership types when they purchase in presale, with the first 100 customers to enroll receiving a $200 gift card to use in store towards any services. These rates give customers the very best value and create accessibility to fit these preventive care services into everyone's routine.
"We are seeing such a shift across the board encouraging personal wellness, and the positive effects one can get out of focusing time to take care of themselves for their jobs, families and overall lives," said Lidia Richani, Executive Vice President of Leasing for Stark Enterprises. "Being dedicated members ourselves at Restore's other Cleveland locations, we knew the incredible benefit needed to be expanded to the East side community, and we are ecstatic to have them open their next location at Eton Chagrin Boulevard!"
To capture your founders rate beginning July 1, call (216) 245-4517 and learn more today! These rates will only be available through the month of July. To learn more about Restore's services and their brand mission, visit www.restore.com.
Restore Hyper Wellness + Cryotherapy at Eton plans to open this September and will be located at 28699 Chagrin Boulevard, Suite 200 with exterior entrance between Bluemercury and Taza. Hours of operation will be Monday-Friday, 10am-7pm, Saturday 9am-5pm, and Sunday, 10am-4pm. Keep up to date with this project as well as all new happenings and openings taking place at Eton Chagrin Boulevard by following @EtonChagrinBlvd on Facebook, Instagram and Twitter and visiting etonchagrinblvd.com.