26 Sep

Behind The Biz – Gingie Spa
Behind The Biz – Gingie Spa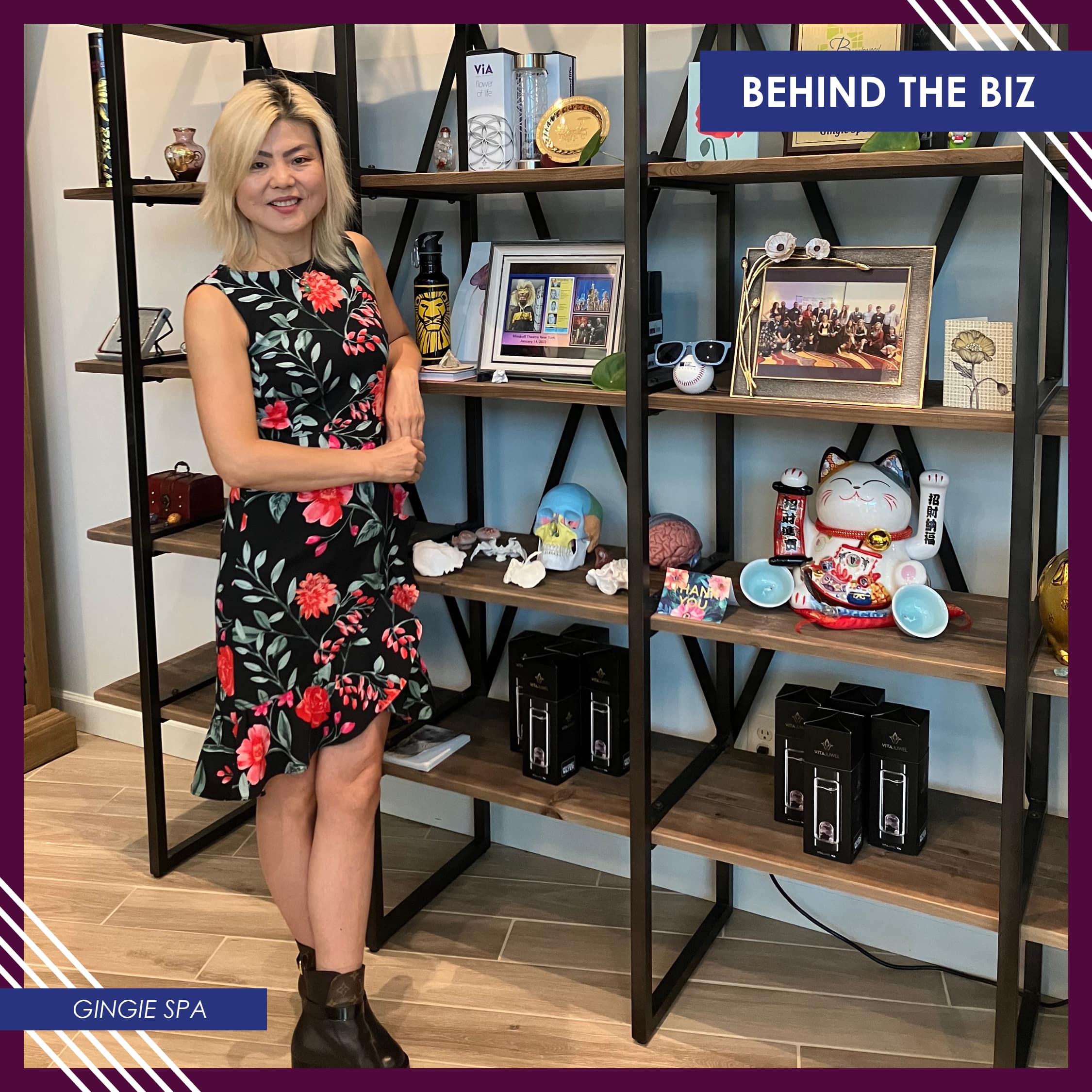 Our "Behind The Biz" blog series takes a deeper dive into the amazing people behind the businesses here inside the Atrium Shops at Eton Chagrin Boulevard. This week's spotlight is Gingie Spa.
Behind The Biz – GingieSpa
Gingie Spa and Massage (Gingie Spa) won "Small Business of the Year 2022," awarded by the Beachwood Chamber of Commerce, nominated by Woodmere Mayor Ben Holbert, with a proclamation given by Beachwood Mayor Justin Berns. The award recognizes companies and organizations that demonstrate all-around excellence in business. Recipients are selected based on demonstrating competitive advantage in their operations, deploying specific strategies to drive business growth, and delivering positive economic impact in service to communities. Gingie Spa was also selected to be in Goldman Sachs 10K Small Business network.
Gingie Spa's founder and owner, Zhenni Jackson, defines Gingie Spa's mission as "Live Longer and Grow Younger!" The value of "Live Longer" is inspired by her upbringing in Chinese culture, while "Grow Younger" is illuminated by the American culture into which she is absorbed.
Born and raised in China, Zhenni learned holistic living wisdom and self-care daily practices originating in her childhood — eating fresh foods, especially an abundance of vegetables and fruits; opening windows to facilitate fresh air flow; and taking care of the human body through physical exercise and massage. In traditional Chinese culture, vitalized longevity is rigorously pursued; its' attainment exemplifies success in one's life.
Coming to the U.S. in 2000, Zhenni's first job was working as a credit analyst in a British Bank in the World Trade Center. As she was on-site when 9/11 happened, she witnessed the unspeakable war-like horror of the second plane hitting the south tower. Zhenni moved with her family to Belgium in 2011, travelling around Europe to experience some of the finest cultural and artistic heritages on Earth. In 2015, Zhenni moved to Cleveland to support her daughter's violin studies at the Cleveland Institute of Music. Zhenni was recruited by Saks Fifth Avenue Beachwood (Saks) while purchasing a performance dress for her daughter. During her employment at Saks, Zhenni represented Clé de Peau, a luxury skin care line. She won the fastest growth account award two years in a row across Clé de Peau's North American accounts. It was while working at Saks that Zhenni met Lily, a VIP client. Not only did she encourage Zhenni to start her own business, Lily actually invested in launching the enterprise. Zhenni also obtained investment from her husband Kevin and from her close friend Peter. Garnering support from people that believe in her is what placed Zhenni on the path to creating her own brand, "Gingie."
Society has reached a point where people want the flexibility to work hard while also desiring more leisure time to relax. So a spa is the perfect business for today's age — allowing people to spend an hour away from it all to focus on themselves.
On June 1, 2018, Zhenni opened Gingie Spa to provide the local community with self-care services: facial, massage, and body care. Zhenni says that Eton Chagrin Boulevard is an ideal location for Gingie Spa, an area enjoying community safety, easy highway access, surrounding neighborhoods with high disposable income, and top-brand stores (Apple, Tiffany) as neighbors.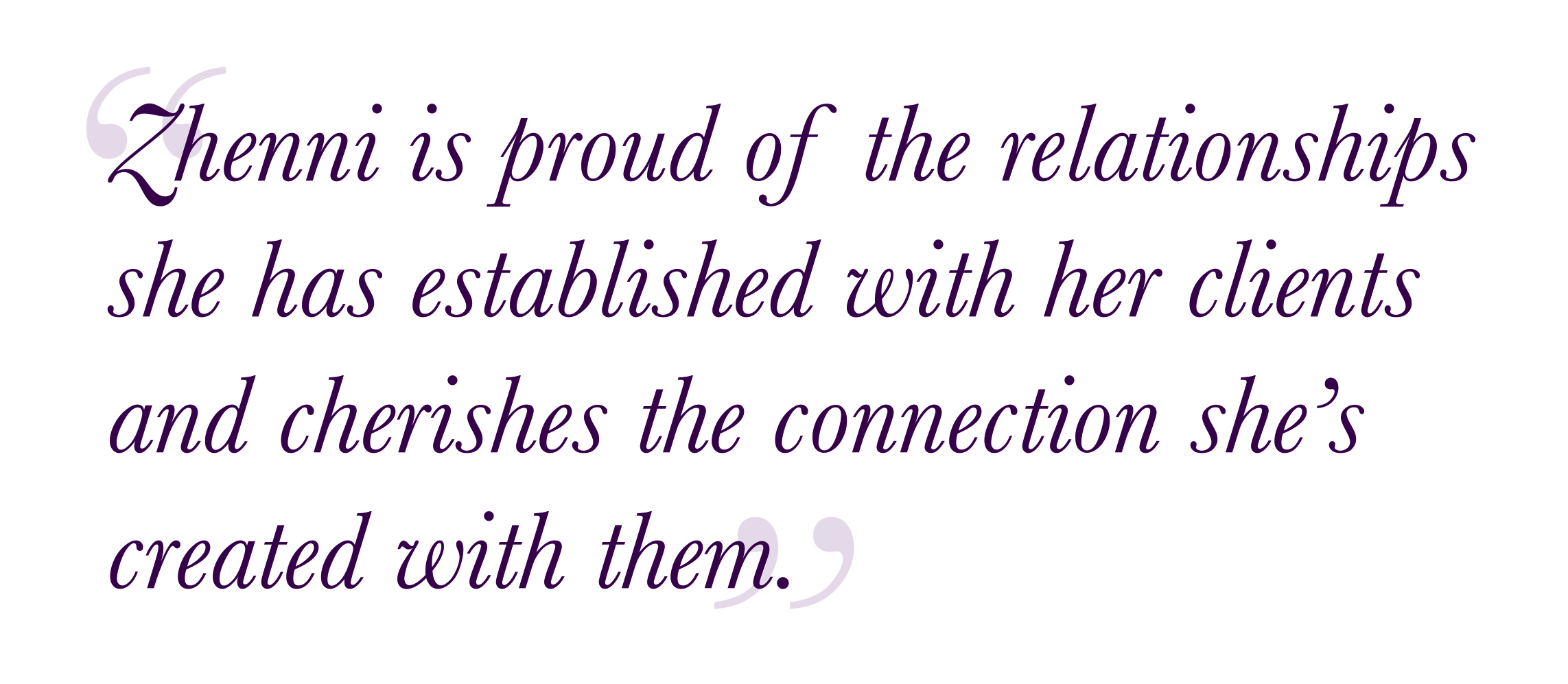 Gingie Spa focuses on the priceless importance of human touch — a very simple but effective remedy compared to modern drugs and medicine. One of Zhenni's clients was in Ukraine when Russia invaded his country on Feb. 24, 2022. He escaped to Poland. Before flying back to the U.S. on Feb. 26, 2022, he texted Zhenni, "Hi Zhenni, hope you are doing well. Do you have any openings for Sunday for me? I am on my way from Europe and would like to have your healing touches. Let me know please." The moment she received the message, Zhenni realized no matter how advanced technology becomes it can't replace the magic of human touch.
From the moment customers enter Gingie spa, they feel a calm, positive energy. Zhenni has endeavored to create a culture of happiness, putting her soul into her business. Avoiding the trap of many day spas operating almost like factories, Gingie Spa stands out by placing a premium on human interaction. Zhenni is proud of the relationships she has established with her clients and cherishes the connection she's created with them. She operates with artistry, spirit, and heart – a trio of qualities that sets Gingie apart from other spas. No competitor can possibly replace such a unique personalized recipe.
For a period of only four years, two of which included the pandemic, Gingie Spa has been developing a solid impressive clientele, In Zhenni's words, her client list is full of inspiring people – top business professionals, doctors, surgeons, nurses, athletes, musicians, and many more. Most people who frequent Gingie Spa have high self-consciousness and understand that to perform in their high-demanding careers, they need to take care of their own mind, body and spirit. They simply need to feel right about themselves first in order to perform and achieve.
Gingie Spa offers facials and massages, but the most unique offering is the Vichy Shower, a table shower hydra-massage experience. For this service, clients lay down to receive therapists' body scrub and body mask treatment with lights turned low, soothing music playing in the background and warm water cascading over the entire body. Not only does the treatment exfoliate and nurture the skin, the hydra therapy helps heal the mind, while triggering the transference experience as well.
Zhenni has learned enormously by owning her own business. In today's economy, rising costs of goods has made being a business owner a lot harder. Nevertheless, she has maintained the same prices for her customers since 2018. She has also learned what it takes to build a clientele. She understands that she does not fit all clients: her style and services necessitate a mutual fit between the customer and provider. Mindset matters. Respect for the therapist giving treatment is as important as the respect of the client who receives it.
Every massage therapist of Gingie's Spa is highly skilled and is licensed by the Ohio Medical Board. They love what they do, are passionate about massage, and are respectful to clients. They are all eager learners and constantly take a variety of seminars and courses to advance their skills. Zhenni herself holds an Ohio Advanced Esthetician License and a Medical Board Massage Therapist License. She also participates in ongoing Craniosacral Therapy, Visceral Manual Therapy, and Sport Massage trainings.
The future of Gingie's Spa looks bright. Zhenni's dream is to build to last: developing the "Gingie" Brand while propagating many Gingie Spa locations. She would also love to expand into a product line of body care, skin care and gifts. She will continue to recruit the best therapists in the community.
Zhenni and her team see clients of every age for every occasion. Whether it's a young teen that needs massage therapy for high school sports, or senior citizens looking for pain relief, or people between 30-50 that are looking to take care of their mind, body and spirit after work. Ultimately all of her clients are looking to invest in themselves.
To learn more about Gingie's Spa and book an appointment, visit gingiespa.com or call (216) 245-6858.