28 Jul

Eton Chagrin Boulevard Welcomes Grand Times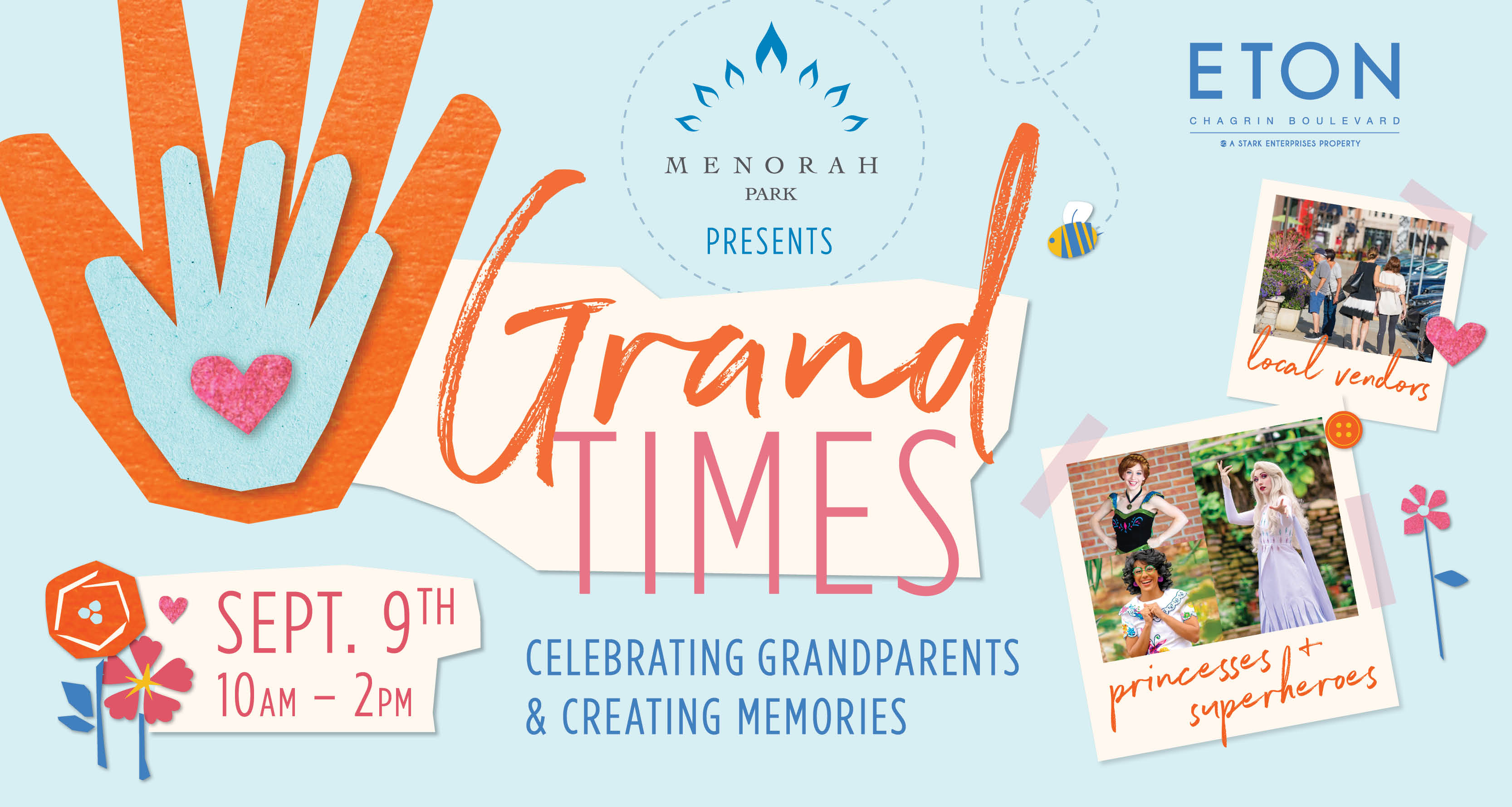 Eton Chagrin Boulevard welcomes Grand Times on September 9th at 10 AM to celebrate Grandparents Day
Princesses & Superhero's Meet & Greet, Photo Opportunities, Crafts and More.
Celebrate the grandest people in your life, Grandparents, with a day full of cherished memories and family fun at Grand Times at Eton Chagrin Boulevard, proudly presented by Menorah Park. On Saturday, September 9th, from 10am-2pm, visitors of all ages are welcomed to Eton Chagrin Boulevard for an exciting opportunity to meet princesses, superheroes, enjoy local vendors and engage in various activities throughout the day. It's a day of photos, crafts, music, fun and memories!
Eton Chagrin Boulevard and Menorah Park have teamed up to create an event catered to all age groups with a variety of activities to create meaningful experiences and lasting memories. Princess and superhero characters will be onsite for photos.
The event offers other activities including crafts, local vendors, music, and many other fun-filled activities throughout the day. Amidst the festivities, visitors will also get to enjoy the assortment of retailers and restaurants both outdoors and inside the atrium shops at Eton Chagrin Boulevard. It's a perfect opportunity for the kids to show their appreciation and make the grandparents feel truly special. Let the Grand Time begin!
"We are thrilled to host Grand Times again this year," says Stacie Schmidt, VP of Marketing at Stark Enterprises. "Eton Chagrin Boulevard welcomes all with open arms, aspiring to craft an extraordinary experience that envelops families in a warm and inclusive atmosphere. Overflowing with enjoyable entertainment for every age, the memories created here are destined to last a lifetime."
Eton Chagrin Boulevard offers a delightful blend of locally owned boutiques, alongside renowned national brands, and exceptional dining choices, all presented in a one-of-a-kind indoor and outdoor lifestyle center. This extraordinary event is made possible by the generous support of our presenting sponsor, Menorah Park. Stay up to date on all the activities that will take place during the day by visiting etonchagrinblvd.com/grandtimes.